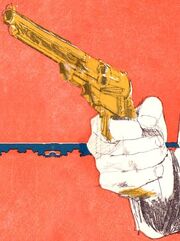 The Golden Gun is the signature weapon belonging to Cuban assassin Francisco Scaramanga. It appeared as the titular weapon in Ian Fleming's posthumously published 1965 novel, The Man with the Golden Gun. In the novel it is a gold-plated .45-calibre revolver.
Specifications
Edit
Production: unique
Type: Pistol
Weight: 1,048 g
Length: 12.5" (31.8 cm)
Capacity: 6 rounds
Fire Modes: Single action
Background
Edit
The golden gun is a gold-plated .45-calibre revolver that carries gold dum-dum bullets with silver jackets. Bond himself uses the gun once to shoot a pineapple off a dancing showgirl's head. The dossier M reads on Scaramanga suggests that he has a form of fetish with guns and that having such an ornate weapon may act as a form of compensation for a possible lacking of sexual promiscuity that he is famed for.
Additionally, Scaramanga also carries a single shot golden derringer with a bullet coated in snake venom that poisoned Bond.