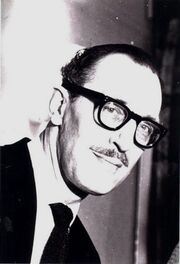 O. F. Snelling (December 30, 1916 – November 6, 2001) was an author and auctioneer clerk in the antiquarian book trade.
Snelling took a job in the antiquarian book trade, working first as a clerk at Hodgson's in 1949, later Sotheby's Rare Book Department, and became Chief Clerk. It was there he met author Ian Fleming, assisting him in research for the James Bond novels.
James Bond
Edit
Snelling is best known for his 1964 analysis of the James Bond books, Double O Seven, James Bond, A Report, the only such title personally authorized by Ian Fleming. Part of the book's initial success was that its publication roughly coincided with the death of Fleming in August 1964 and included footnotes discussing the recently issued Bond novel, You Only Live Twice. Focused on the literary 007 with passing mentions of the first Sean Connery films, Snelling examined the predecessors to Bond, his adversaries, and especially the women in the novels.
Knowing novelist Kingsley Amis was also working on a similar study (published as The James Bond Dossier in 1965), Snelling rushed out his book to compete with Amis, and the two titles have been frequently compared ever since as the earliest serious studies of the James Bond phenomena. Snelling's title sold over a million copies, appeared in French, Dutch, Portuguese, Japanese, and Israeli editions and translations.
In 2007, an online edition of his Bond book was published using the title he'd have preferred, Double-O-Seven: James Bond Under the Microscope. It included a 1980 introduction Snelling had written for a hoped for new release of his 1964 best-seller. Accompanying the new publication was a collection of selected correspondence between Snelling and his literary executor, Ronald Payne, written between 1979 and 1994.