Role of Honour, first published in 1984, was the fourth novel by John Gardner featuring Ian Fleming's secret agent, James Bond. Carrying the Glidrose Publications copyright, it was first published in the United Kingdom by Jonathan Cape and in the United States by G. P. Putnam's Sons.
After receiving a large inheritance from a deceased uncle, James Bond is accused of improprieties by M and Bill Tanner and drummed out of the British Secret Service. Disgusted with his former employers, Bond places his services on the open market, where he later attracts the attention of representatives of SPECTRE who are quite willing to put their one-time enemy on their payroll.
Prior to joining up, Bond spends a month in Monte Carlo with Miss Percy Proud, a CIA agent who teaches him everything she knows about programming languages and computers in general. This background allows Bond to attract Jay Autem Holy, an agent of SPECTRE who left The Pentagon, faked his death, and later started a computer game company that creates simulations based on real-life battles and wars.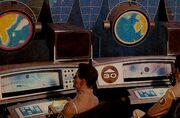 Bond manages to get inside Holy's computer company, Endor taking a position there alongside a woman by the name of Cindy Chalmer. Percy acts as their CIA liason and contact point. At Endor Bond meets Peter Amadeus, another programmer who works for Holy. Bond later helps him to escape and is used by the British Secret Service to one-up SPECTRE by taking a job within the Secret Service as a computer programmer using SPECTRE's own knowledge against them.
Bond's allegiance to SPECTRE is periodically questioned throughout the novel, even at one point going so far as to send Bond to a terrorist training camp (known as "Erewhon") to see if he has 'the right stuff'. Proving his worth, Bond becomes involved in a plot to destabilise the Soviet Union and the United States, by forcing them to rid the world of their nuclear weapons.
What SPECTRE leaders Tamil Rahani and Dr. Jay Autem Holy suspect, but never fully realise is that Bond's resignation is false. Along with Bond, the Secret Service plays a vital role in foiling SPECTRE; however, Rahani, the current leader of SPECTRE is able to escape Bond's clutches by parachuting out of an airship over Switzerland. Ultimately, Rahani lands badly, and injures his spine triggering an aggressive form of cancer.
Community content is available under
CC-BY-SA
unless otherwise noted.