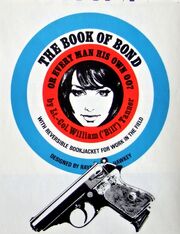 The Book of Bond or, Every Man His Own 007 is a book by Kingsley Amis which was first published by Jonathan Cape in 1965. For this work, Amis used the pseudonym Lt.-Col. William ("Bill") Tanner. In Ian Fleming's James Bond novels, Bill Tanner is M's chief of staff and a recurring character throughout the series.
A tongue-in-cheek work, published by the same company that issued the Bond novels, The Book of Bond is a manual for prospective agents on how to live like Agent 007, illustrated with examples taken from Fleming's Bond canon.
The first edition of this book was published with a false slipcover printed with the title The Bible to be Read as Literature. In one of the early Bond novels, Bond carries his gun in a hollowed out book of this title.
Amis, a close friend of Fleming's, was also responsible for two other works related to the James Bond series. In 1965, he wrote The James Bond Dossier, a collection of essays on the book and film series, and in 1968, under the pseudonym Robert Markham, he wrote the Bond novel Colonel Sun.
Community content is available under
CC-BY-SA
unless otherwise noted.