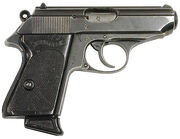 The Walther PPK is a German pistol issued to James Bond in the Ian Fleming novel, Dr. No.
Specifications
Edit
Production: 1929–present
Type: Pistol
Weight: 590 g (21 oz)
Length: 155 mm (6.1 in)
Barrel length(s): 83 mm (3.3 in)
Capacity: 7+1 rounds
Fire Modes: Semi-Auto
Appearances
Edit
The PPK makes it literary debut in Dr. No, the sixth book in the series. The reason for this change is found in the previous book, From Russia with Love where Bond's Beretta 418 sticks in his holster. Taking several months to recover from injuries sustained at the end of the earlier book, Bond has his new weapon forced upon him. Although he is initially reluctant to use the weapon, he soon comes to rely on it.
The introduction of the PPK as Bond's favoured weapon came about after a series of unfortunate errors contained in Ian Fleming's early Bond novels. Firearms expert Geoffrey Boothroyd fired off several helpful letters to Fleming correcting these errors and making helpful suggestions as to a suitable replacement for the "Beretta with the skeleton grip".
In one extensive letter to Fleming regarding the accuracy of Russian firearms Boothroyd suggested in passing that Bond should carry the German made 7.65mm Walther PPK (Polizei Pistolen Krimminal = Criminal Police Pistol, designed for undercover detectives) as his chosen sidearm. Though not as accurate as some other pistols of the same era the PPK had the great advantage of using the 7.65mm calibre (0.32" cartridge) which was readily available all over the world, fitting in with Bonds Jet Set lifestyle perfectly. Thus the PPK entered into Bond folklore and into popular culture as the preferred weapon of the espionage operative.
What is less well known is that Fleming was so grateful for Geoffrey Boothroyds advice on firearms that he named the "Armourer" in Bond novels "Major Boothroyd" - now known as "Q". In the novel Dr No "M" introduces "Major Boothroyd" to 007 as the "greatest small arms expert in the world".
Continuum
Edit
By the time John Gardner took over as Bond novelist, he had retired the PPK. However Raymond Benson reinstated the PPK in his first novel, Zero Minus Ten. In the following novels Bond uses both guns: the PPK for undercover work as it is smaller and easier to conceal while he used the Walther P99 for jobs that did not require concealment.
Community content is available under
CC-BY-SA
unless otherwise noted.